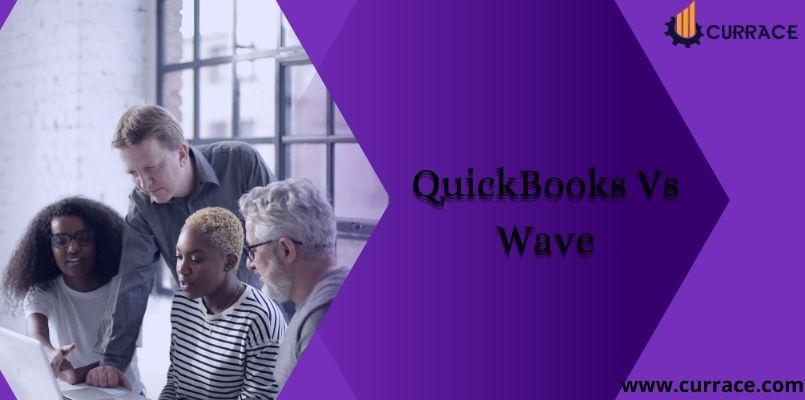 Quickbooks VS Wave
We are here to discuss about quickbooks VS Wave, both are famous accounting software and both have many differences and similarities between them. If you want to know all about quickbooks and wave then read the complete post, here we discussed all advantages, disadvantages of a QuickBooks accounting software, requirements, and a lot of other points to know all read every point carefully.
quickbooks
quickbooks is one of the best accounting software for businesses to help you organize your business's finances all in one place. Simple to set up and use. Stay on top of invoices, manage expenses, get reliable reports for tax time and import your date from a spreadsheet. quickbooks is a cloud-based software that's easier to learn and use.
Requirements:-
Operation System:- Windows 10 , 8,7, Mac OS, Linux,
Advantage:-
QuickBook does everyday tasks consequently. Like- Sending Bill, Invoices, Expenses, and more.
Simple to set up and use.
It maintains all the bank transaction details also.
We can customize payment receipts according to your business.
It tracks your all past Invoice, sales, and inventory to make better decisions. This software analyses all the details of previous data.
Disadvantage:-
I can't delete any data from the server after inventory.
Sometimes customer editable pages are slow to load.
It forces us to update before use, otherwise, we can't use the software.
The price is so high.
The customer service is not very good.
We can not scan any barcode..
This software is so expensive, Small businesses can't afford it.
Versions of quickbooks:-
There are six types of quickbooks for business to manage their accounting and finances:
Wave
Wave accounting software is also Cloud-based software. Wave software is totally free, but there is some function that is chargeable like- Adding payroll, Payment Processing, Or professional bookkeeping services, etc. There are so many businesses that are searching for accounting software free of cost, so they won't find any software much better than Wave.
Wave software is very user-friendly. It is not necessary to know all the things about accounting, it helps a lot. If you get stuck, there are customer support options available to help you out. It gives you lots of features that you can't find in other paid accounting software. It provides us free chat support for the first 60 days.
Advantage:-
Free: -" This Software is totally free except for a few features. But that feature is also at a very cheap price."
Easy to use: -" This Software is user-friendly. And easy to use."
Numerous features: -" There are lots of features in this software we can find paid or free both features.
Good for small businesses: – "It is good for small businesses because it is totally free and there are lots of features."
Solid security features: – "Wave security is very strong without admin permission we can't send any file, even we can't edit or read any file, folder, or reports etc."
Helpful support: -" there are lots of customer support options in wave software. And you can call or visit the wave website any time."
Disadvantage:
Not for larger businesses: – "This software is not designed for the larger businesses. It is good for small businesses."
Doesn't support multiple users: – "wave does not support multiple users, this software is only for single-user."
quickbooks Vs Wave
Details
Wave
quickbooks
Features
Good
Excellent
Pricing
$0
$25/month
Ease of use
Excellent
Good
Customer Support
Good
Good
Complaints
Good
Fair
Integrations
Poor
Excellent
Best For
Small
Small and Large Businesses
Bill Payment
No, we can't
Yes, We can
Key Features
Invoicing,
Reports,
Income and Expense Tracking
Accounting,
Banking,
Expenses
Free Version
Yes, there is a free version
No, There is No Free Version
Invoice Customization
Good
Excellent
Live Support
No
Yes
Mobile Apps
Yes
Yes
Reporting
Yes
Yes
Multiple Plans Available
No
Yes
Security
Good
Excellent
(Visited 18 times, 1 visits today)