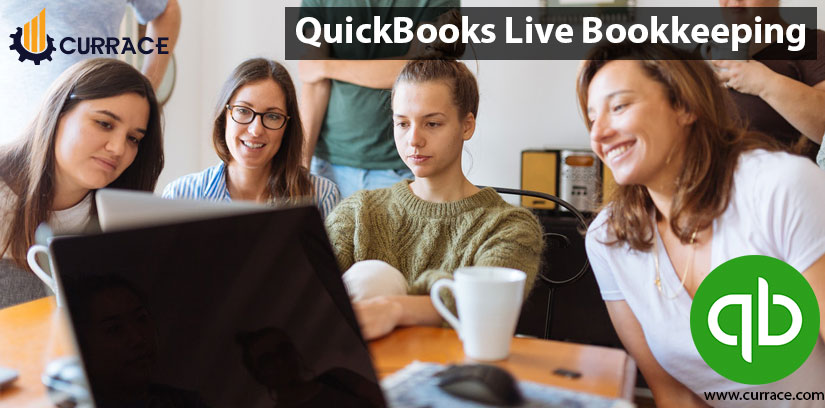 quickbooks Live Bookkeeping
quickbooks Live Bookkeeping is a new service attached to quickbooks Online. Essentially, this service does exactly what the name suggests: It connects quickbooks clients to quickbooks-certified bookkeepers for personalized, real-time support. In June 2019, quickbooks Live Bookkeeping was available only to select some quickbooks Online customers, but they planned to roll out wider availability in the following months so if you have quickbooks Online, it's checking to see whether you have access to this service. You'll know you have it if you see a "Live Bookkeeping" menu in the left navigation menu. Otherwise, you can sign up for the service directly. All quickbooks Live service plans include a subscription to quickbooks Online Plus, which is their most popular accounting software for small business owners.
Advantage of quickbooks Live Bookkeeping
you can install and then connect with Bookkeepers.

The Online Bookkeepers will help you to categorize your transaction, reconcile your accounts, and close the books every month.

The professional check the records and correct the error in it.

Provide personalized file for a better understanding of the Business.
Role of quickbooks Live Bookkeeping
After you sign up for quickbooks Live, you will provide quickbooks with some information about your business, and they'll match you with a certified bookkeeper within a minute. This will be your primary contact, but you can also leave a message with an additional team of bookkeepers if you have any questions. Note that your bookkeeping team is only available during regular business hours. From there on out, you can schedule a video and screen-sharing session with your bookkeeper whenever you want or need it. Your team of bookkeepers will also maintain your books throughout the month, and they'll review and close your books at the end of every month. They'll also provide you with a monthly report, which they can walk you through either by phone or video chat.
However, there's one major issue: quickbooks Live bookkeepers won't handle your payroll setup, administration, or support. And although they'll organize your books for tax season, they won't file your taxes for you. For that, you'll need to stick with your CPA or accountant, PEO, or payroll software that's certified to calculate and file taxes on your behalf.
quickbooks Online Plus Features
All quickbooks Live plans include a subscription to quickbooks Online Plus. This accounting software comes with all the essential accounting features most small business owners need, including:
Income and expense tracking

Maximize tax deductions

Capture and organize receipts

Manage 1099 contractors

Manage bills

Time tracking

Track project profitability

Inventory tracking
This plan can accommodate up to five users, so you can provide access to your accountant and relevant employees with custom permissions. quickbooks Online is web-based, too, which gives you the flexibility to access your books anytime, anywhere.
quickbooks Live Pricing
quickbooks Live has three service plans:
Low-volume bookkeeping:

This plan works for businesses with up to $25,000 in monthly expenses and costs $270 per month, with a discounted monthly price of $221 for the first three months.

Medium-volume bookkeeping:

$470 per month ($421 for the first three months). This plan is suitable for businesses with $25,001 to $150,000 in monthly expenses.

High-volume bookkeeping:

$670 per month ($621 for the first three months). This highest-tier plan is designed for businesses with $150,001+ in monthly expenses.
As you can see, quickbooks Live Bookkeeping doesn't come cheap. But keep in mind that quickbooks Live doesn't have long-term contracts, so you can switch or cancel your service at any time without incurring fees.
How to contact with Bookkeepers.
You have to go to the quickbooks Live Bookkeeping menu then select your appointment option.

Then fill the all details and select the appointment time. When you are done with filling the details, you will see a confirmation of the appointment on the display.
If you want a leave message to your Bookkeeping Team, then go to the quickbooks Live Bookkeeping menu and click on the message option. then you will see a chat option in your system screen, after this you can start the conversation with the Professional.
(Visited 23 times, 1 visits today)