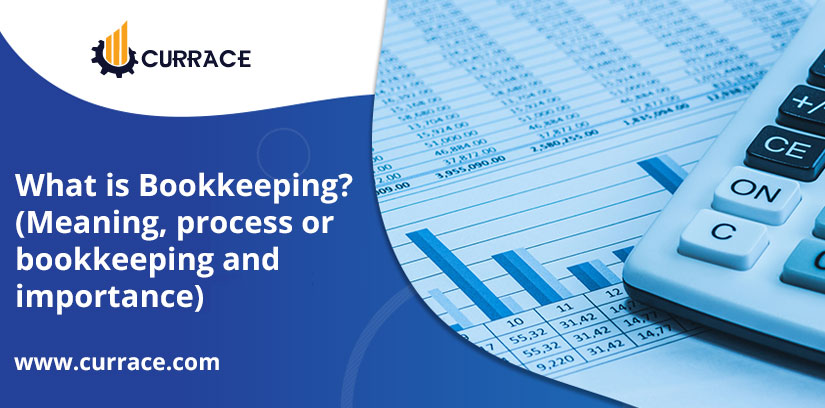 What is Bookkeeping?
Bookkeeping is a process of recording your business's financial "transactions". In other words, you can say that Bookkeeping is a part of the accounting process. By the word Transaction, it means your Sales, Purchase, Payment, Receipt by any individual person or firm. There are several standard methods to do bookkeeping the most common bookkeeping standard is "Single Entry" and "Double Entry" Bookkeeping system. Whatever transactions you record in the real world, your transaction recording is called bookkeeping.
In most organizations bookkeeping is managed by the bookkeeper, the work of the bookkeeper is to record all the day-to-day transactions of your business. In day-to-day transaction includes the record of your whole day Purchase, Sale, Payment, and Receipts. Every Cash or credit transaction record in the daybook for example Cash Books, Supplier Ledger, Customer ledger, General ledger, and much more. After that, your accountant makes a financial report which contains the information which is recorded by your bookkeeper.
Bookkeeping words are a mixture of two words "books" "Keeping" which means that keeping the record in an arranged manner and On the words, you can say that bookkeeping is the source of information of your all business transactions.
The bookkeeper forwards their record books for the trial balance stage and then the accountant calculates the income statement and balance sheet with the help of Bookkeeping.
Importance of Bookkeeping
Every company wants to measure their performance from time to time which is only possible when you create proper bookkeeping of your day to day transactions. Bookkeeping also helps to take the strategic decisions to achieve the desired goals. When your business stat running, then it becomes difficult to record your business transactions.
Then you need to hire an accountant to handle your business but most of the small business doesn't have the capability to hire an accountant then small businessmen hire bookkeepers in the place of accountants to record their day to day transactions. on behalf of Bookkeeping, you will be able to run your business in the right direction and you can take the correct decision for your business.
Types of Bookkeeping?
Mainly we divide the bookkeeping into two types:
Single Entry: If you are going to start your business at the initial level. Then you can take the help of Single-entry bookkeeping, In single-entry bookkeeping you must have to prepare your cash book (Which includes your bank activities, receipts, and payments).
Single entry bookkeeping is mainly done to calculate your monthly income, expenses, and rent.
Double Entry Bookkeeping: Double-entry bookkeeping is the advanced version of single-entry bookkeeping. Double entry is difficult than single-entry bookkeeping. Double-entry includes CashBooks, Accounts Payable, Accounts Receivable, Track Loans, Payroll, Inventory, Journal, Ledger, and Trial Balance.
The Purpose of Bookkeeping
1: Enter your business Financial Transactions
The basic objective of Bookkeeping is to record your all financial transaction activities accurately in an organized manner. Below you will get to see an example of bookkeeping that will help you to understand Bookkeeping easily.
Purchase the raw material of the pen is $1.
Purchase the raw ink in $1.
Then you sell your whole pen at $4.
From the purchase to sale all the records are mentioned in the book by a bookkeeper is called bookkeeping.
Communicating Results
Once you have completed your bookkeeping then you can use this information to achieve your business goals. With the help of Bookkeeping you can easily find out your most selling items so, in the future, you can increase the quantity of most selling items.
What is the Difference Between Bookkeeping and Accounting
Bookkeeping and Accouting are the most important aspect to run your business organization. In simple words you can say that Bookkeeping is responsible for recording your transaction on the other hand Accounting is responsible for Interprete, Classify, analyze, reporting, and summarizing your financial data.
If you don't have any technical knowledge then Bookkeeping and accounting will look the same because of both the accounting and bookkeeping deal with the financial data, which requires basic accounting knowledge and create reports using the financial transactions. Below you will get to see the major difference between the Bookkeeping and Accounting.
| | | |
| --- | --- | --- |
| Basics | Bookkeeping | Accounting |
| Definition | Bookkeeping refers to the recording, identifying, measuring financial transactions. and it is part of the Accounting process | Accounting is the processing of summarizing, interpreting, and change the bookkeeping details into the ledger account. |
| Decision Making | The business management can't take any decision on behalf of Bookkeeping data provided by the bookkeeper. | After making the trial balance and ledger a businessman takes decision by looking at the accounting report and every critical decision is to take on behalf of the accounting report. |
| Objective | The main objective of preparing the Bookkeeping is to maintain a proper record of your all business transaction in a systematic way. | The objective of accounting is prepare the accounts on the behalf of bookkeeping and analyze the profit & Loss of your organization. |
| Preparation of Financial Statements | Financial statements don't get ready in the bookkeeping stage. Because Bookkeeping is the processing of preparing the financial statements. | The financial statement is done in the accounting process. |
| Skills Required | Bookkeeping doesn't need any special skills and everyone can do bookkeeping without any technical skills. | Accounting is needed very special skill. Because it is very complex to manage. |
| Analysis | The process of Bookkeeping doesn't require any special kind of analysis. | Accounting requires a deep analysis because you need to interpret the data of Bookkeeping and then create a report. |
| Types | Types of bookkeeping are divided into two types 1) Single Entry 2)Double Entry | Accounting doesn't have any type. |
| Bookkeepers and Accountants | Bookkeeper must have to write their transactions accurately and a Bookkeeper must have basic knowledge about the financial topics. | knowledge and sufficient experience and he must-have title of CPA(Certified Public Accountant) |
Is Bookkeeping is Easy?
In reality, Bookkeeping is very easy but you need to do more focus at the time of entering the amount of transaction. If you take any shortcut in Bookkeeping then it will dis-organize your all data. Bookkeeping must be done on time when the transactions happen. Bookkeeper must have basic knowledge about the financial.
Conclusion
Bookkeeping is a way to keep a record of all your financial activities. It is basically done by the small business. The purpose of creating the bookkeeping is to track the income and expenses and you can easily find out the profit and loss of your business. Bookkeeping is divided into two parts single entry or double-entry bookkeeping. You can choose any method of bookkeeping.
(Visited 47 times, 1 visits today)