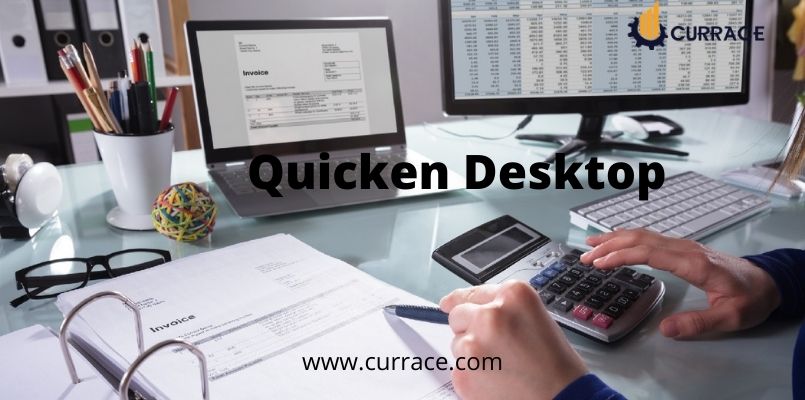 Quicken Desktop
Quicken Desktop is used by many businesses as a cloud-based personal accounting Software around the world. It is made for small businesses to help them with their accounting and bookkeeping.
Quicken Was founded in 1983. It was originally made by intuit but H.I.G Capital bought Quicken in 2016. With Quicken the money can be managed anywhere with the help of Mobile, Desktop, or web.
System Requirements for Quicken:
For Windows:
Min Windows 7
1 Gb Ram.
1.5 Gb of Space in the Hard Disk.
Display of 1280×800
CPU 1 GHz.
Minimum Microsoft .net 4.6
Online activation is necessary
For Mac os
Mac OS 10.11.
256 MB of RAM.
Minimum 100 MB of space in the hard disk.
Any Macintosh CPU
Online Activation is also necessary
Features of Quicken Desktop:
Income and Expenses
In the Income and expenses option in which user can enter their expenses and all the income, and this software will help you in categorizing them so you don't miss any of the transactions and monthly cash flow management.
Budgeting:
After evaluating income and expenses it can create graphs and pie charts to help the user understand the performance of the business better which can help in creating a budget for the business.
Managing Account:
In quickbooks, you can connect all your bank account. Which allows you to manage all the transactions from one place. You can download the transaction and can create charts according to them which helps in managing the bank account better.
Documentation and Taxes;
With the help of Quicken, you can identify the taxable income and deductible expenses. By entering these figures in the tax planner you can get a good estimate for the tax return. And same files can be used for documentation or presentation to investors.
Online Banking
Quicken Online banking is easier to use and saves your time. You just need an active internet connection and click on some additional buttons for using this feature. Quicken online banking feature can only be used if your bank allows Online banking.
Personal Finance calculation
Quicken Comes With 5 types of calculators. This includes retirement saving calculation and can accurately calculate savings and investment. It also helps in improving mortgage-refinancing decision-making. Which helps in understanding where your money is going and what changes are needed to meet your goals.
Print checks
Quicken print check works very quickly and is best when you have to print many checks at once. For using this feature you need to check the supply information and then select the form as per the style.
Plans of Quicken Desktop:
Quicken Offers 3 plans to choose from Which are Starter, Delux, and Premier. Quicken Delux is the most popular plan offered by Quicken. All of the plans are Explained Below.
Quicken Starter:
It is the base plan for Quicken Which offers many features to get you started to use Quicken. This plan can be purchased at $35.99/year. Following are some points to remember while buying a starter pack.
Allows you to watch money spent and plan the budget.
Does not Allows you to track investment.
Data from the earlier version is not needed to be imported.
Allows you to Sync software with mobile.
If you want to see credit card accounts and bank accounts in one place.
Quicken Delux:
Quicken Delux is the most popular plan offered by Quicken. It offers almost all the features that are necessary for a business to do its accounting and bookkeeping work. Which makes the work easier. This Plan can be purchased at $46.79/per year(only for now). Following are some points to remember while buying a Quicken Delux pack
Allows you to import data from earlier versions.
It can create a saving objective for all the major purchases like buying a house.
Allows you to track loans and mortgages and to make plans for reducing debts.
Allows you to check the performance of investment and retirement accounts.
Quicken Premier:
Quicken premier allows you to use each and every feature of the Quicken Software Which allows you to keep your attention on growing business without worrying about accounting and bookkeeping. This plan can be purchased for $70.19/year. Following are some points to remember while buying a Quicken premier pack.
Allows you to handle your investment.
The Portfolio X-Ray feature allows you to see the Strengths and weaknesses of your business.
Comparison of investment return against the market.
Quicken allows you to make Bill payments Digitally.
Allows you to see your real-time portfolio.
Allows to you create specialized tax reports.
quickbooks Mobile App:
The Users of quicken Desktop can use Quicken Mobile App for free Without paying any extra charges. Which allows you to make financial decisions anytime and anywhere. This App is available for both android and IOS users.
Features of Quicken App:
Mobile App Sync with Quicken Desktop.
Allows you to store receipt by clicking images.
Enter Transaction at the time of Spending.
FaceID and Touch id offer Additional Protection.
Your password is protected by 256-bit encryption.
Conclusion:
In this article, we tried to explain to you about Quicken Desktop we talked about its different features and plan available to you. We also mentioned the system requirements for Quicken in windows and mac os.
(Visited 144 times, 5 visits today)