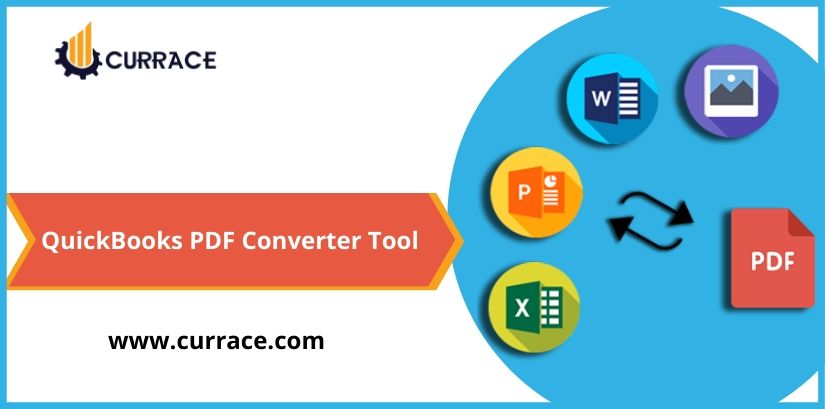 Quickbooks PDF Converter Tool
QuickBooks PDF Converter Tool is an inbuilt utility that changes your QuickBooks company data forms into Adobe portable format files. The conversion is done with the QuickBooks print component only. QuickBooks PDF Converter can create a PDF file from any QuickBooks document including a balance sheet, reconciliation statement, and many more accounting statements. QuickBooks PDF converter only deals with QuickBooks and won't convert any document regarding MS Office or any other applications. QuickBooks PDF Converter works as a printer and it has its own drivers. Modifying the utility's drivers can cause major errors for QuickBooks PDF Converter.
Benefits of QuickBooks PDF tool
Along with the better-shared access to your financial records with your associates, there are several other benefits you can use the QuickBooks PDF Converter tool. Check below:
Once you convert your company's data in PDF format, you can email it to your clients and associates. You may also upload the PDF file to a web browser, Internet, or computer server so that others can also see it.
The PDF file is supported across various platforms and can be opened using Adobe Reader, Foxit Reader, PDF-XChange Viewer, or Perfect PDF Reader.
You can convert various QuickBooks reports such as reconciliation statements, balance sheets, company invoices, and various others. 
Easy data sharing can help you to make well-informed decisions to boost your business profits
QuickBooks PDF Converter Tool installation procedure
Now that you know what QuickBooks PDF Converter is and what its benefits are, follow the below-given steps to install the PDF Converter Tool in QuickBooks.
Right-click the QuickBooks Desktop icon and choose Properties
Click Find Target or Open File Location 
Now double-click the Install Application, or Install.exe, to install the PDF Converter alternatively. 
Hit OK when the installation is finished
Click the Windows Start button and select Run
Now in the Open field, type control printers and hit OK and it will open the Printers and Faxes window
Right-click Document Converter and choose Rename.
Enter QuickBooks PDF Converter and press Enter, Make sure that you type the name accurately as shown here, including spaces. 
How To Delete the QuickBooks PDF Converter Tool?
If you want to delete the QuickBooks PDF tool, then the below-described solutions can help:
In the first place, log in to Windows as a user with Administrator login credentials.

Now open the Printers and Faxes window
If you are a Windows XP user:
Hit the Windows Start button and choose Run.

Now insert control printers in the Open field and click OK.
If you are a Windows Vista user:
Hit the Windows Start button and choose Run. If Run is not available, click in the Start Search field.

Enter control printers and hit OK.

Right-click the QuickBooks PDF Converter icon and choose Delete. Now click Yes, to get the task accomplished. 
Steps To Convert QuickBooks Documents As PDF
Follow the below-stated steps to convert QuickBooks documents as PDF:
Open QuickBooks and then select the invoice that you want to save as a PDF

Now from the File tab, select Save as PDF

Select the destination folder location where you want to save the Invoice PDF

In the File Name section, provide a name and hit Save to finish the task.
(Visited 38 times, 1 visits today)