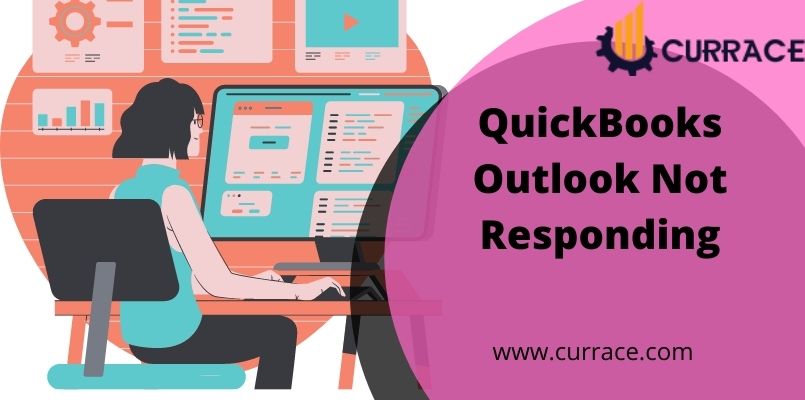 How to fix Quickbooks Outlook is not responding problem?
QuickBooks allows its user to use Outlook Services Which Allows you to send your invoices, forms, and all the transactions through email. This is a convenient way to share your important data. But Sometimes errors can affect the seamless performance of this feature one of these errors is QuickBooks outlook is not responding. So in this article, we will give you complete information about the error and how to fix this error.
Some Possible Reasons for QuickBooks outlook is not responding Error
Before fixing the issue we need to know how this error occurs, knowing the reason that can cause an error keeps us reminding that what we are doing wrong. Let's discuss what are some of the reasons due to which you can face this issue:
You are opening QuickBooks with admin access.
Your Outlook account is not properly integrated with QuickBooks.
Email settings in QuickBooks have some mistakes in them.
MAPI32.dll file could be damaged.
If any Application of Microsoft is running in the background.
Wrong Email Setting in Internet Explorer.
Microsoft Outlook and Microsoft office applications are damaged.
Various Methods to Fix QuickBooks Outlook Not responding
There are many different ways in which you can fix this error. Let Discuss some of them below:
Launching QuickBooks without Admin Access
Close all Background apps.
Search for QuickBooks in the start menu > right-click on the QuickBooks icon.
Click on File Location and locate the quickbooks.exe and right-click on it.
Click on properties> then go to the compatibility tab> Disable Run as Administrator.
Press Apply to apply the changes and then try to send an email.
If you were not able to use QuickBooks Outlook Email Then we can move forward and try another method.
Changing QuickBooks Email Preference
Open QuickBooks>Edit>Prefrences.
Sign in with your outlook account.
OPen Send Forms> My Preferences.
If the QuickBooks email still doesn't work try disabling and enabling the email services.
In My Preferences,>Click on QuickBooks Email/Webmail to turn it off.
Again in My Preferences> Click Outlook and restart QuickBooks.
Changing Preferences of Internet Explorer to default
Quit QuickBooks and open Internet Explorer.
Then perform the given series of actions – Tools > Settings >Internet options
Now In the Programs tab select Set Programs to proceed further
Select Set your default programs and choose the email service you want to utilize
Click Apply, then OK to save the changes
Try sending Emails after Closing Internet Explorer.
Repair MAPI32.dll File
MAPI Stands for Messaging Application Programming Interface. It is a protocol that acts as a bridge between QuickBooks applications and Microsoft applications.
Open any existing document of Microsoft Word application.
Send this File as a PDF by clicking o the mailing menu.
If the mail was sent successfully But QuickBooks is still not able to send the files Follow these steps;
Close all running applications and Open File Explorer.
Go to c:windowssystem32 > and search for Fixmapi.exe and open it.
Follow the on-screen instruction and restart the system after completion.
This will Solve the QuickBooks Outlook not responding problem most of the time and now you should get an error message every time you send a file using quickbooks Outlook.
Steps to fix QuickBooks Outlook not responding error with QuickBooks Clean Install Tool
QuickBooks Clean Install tool is used as a last resource if above all methods did not work You can read more about it by reading our blog on QuickBooks Clean Install Tool.
Close all the QuickBooks applications running in the background using Task Manager.
Now use QuickBooks Clean install tool to uninstall QuickBooks and then reinstall the QuickBooks
Update QuickBooks to the latest version after you manually reboot your system.
After that QuickBooks outlook Not Responding Error Should be Fixed And you can test it by sending an email using QuickBooks Outlook.
Conclusion
In the above article, we discussed the QuickBooks Outlook Not Responding and exactly what is this error and what are some reasons that can cause these errors, and some methods to fix this error.
(Visited 27 times, 1 visits today)