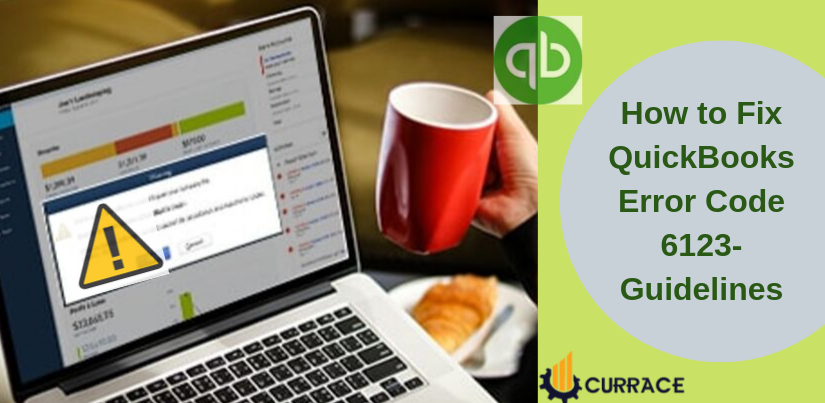 How to Fix QuickBooks Error Code 6123?
Did you ever suffer from the QuickBooks error code 6123 while opening any company file in quickbooks accounting software? Or, this error 6123 also occurs when you try to upgrade your company file via a server system or in a multi-user mode. Whenever you try to restore the QuickBooks company file backup then, error code 6123 generates. So, in this article, you will find the perfect solution to QuickBooks Error 6123.

You might know that QuickBooks accounting software helps you in tracking all the transaction reports and information of all the different companies. When the error 6123 occurs you will get a notification like "You have lost the connection between the company files". Also, you should know why this error occurs which means the cause of quickbooks Error 6123.
Causes of QuickBooks error 6123
Bellow, we discussed all possible causes of error code 6123
There may be a possibility that your Windows system is corrupted.
Or in your antivirus software, the option of web bugs filter blocking is selected.
The connection between the server hosting and the company is blocked by the firewall security.
The company files of QuickBooks have been corrupted due to a virus attack.
Your system has multiple QuickBooks database version services running.
The Quickbooks Company file name was changed in your server hosting system.
Steps for Resolving QuickBooks Error 6123
With the help of these steps which are mentioned below, you will get your solution of Error 6123. There are multiple solutions according to different situations.
When you open or try to upgrade your company file then Error 6123 occurs
Firstly, you need to open your company file from the QuickBooks software. Do not open your company file folder directly otherwise, you get this error.
Step1: Do not use special characters in the file name
Keep your company name less than 30 characters and do not use special characters in the file name.
Step 2: Use QuickBooks Tool Hub
To fix the QuickBooks error 6123, you need to download and install the QuickBooks Tool Hub. And, if you want the best results use QuickBooks Tool Hub on Windows 10 64-bit.
In the beginning, close the QuickBooks software.
You need to get the QuickBooks Tool hub of the latest version in your system. And save the file where you can easily browse it. And if you already have QuickBooks Tools Hub then check it version by clicking on About to see the version of the tool.
Then click on the file which you downloaded 'quickbooksToolHub.exe'.
It will show you the terms and condition screen on your monitor screen. You need to read all the instructions and install it.
Open the tool by clicking on the icon shown on the screen of your desktop.
If in case, the icon of the tool hub was not found at the desktop screen then search from the search bar of windows and open it.
Step 3: Execute QuickFix my Program
You have to click on the Program Problem in the QuickBooks Tool Hub software.
Then, you see an option of QuickFix my Program, click on it.
After that, you need to wait for the process to be done.
When the process is completed then, go to QuickBooks and check whether your issue is fixed or not.
Step 4: Download QuickBooks File Doctor
You can use QuickBooks File Doctor to fix QuickBooks Error 6123 to fix this issue. It will automatically solve this common error 6123.
You need to click on the Company File problem in the QuickBooks Tool Hub.
Press the option of on the Run QuickBooks File Doctor.
After that, select your company name from the drop-down menu. And, if you did not find your company name then browse your company file which is of .qbw extension.
Click on check your file and move forward.
To continue the next step, you need to enter your admin password. QuickBooks File Doctor will start to fix your file.
When the process is completed then choose your company and open it with QuickBooks.
Then try to open your QuickBooks company file and if it opens successfully then make sure that you create a backup of your company file.
When restoring the company file then Error 6123 occurs
Firstly, remove the special characters from the company file name and keep your company file name less than 30 characters.
Restore your company file
Save your backup file to the local hard drive and do not open it from an online storage folder or a removable drive.
When restoring the backup(.qbb) on a new system
On the same computer open the QuickBooks Desktop application where you have created a backup company file. Then, open your real company file, not the backup file. After that, you need to make a portable copy with the extension '.qbm' of your QuickBooks company file.
Then, open your quickbooks Desktop application on another system.
Restore your company file by portable copy (.qbm) not the backup file.
We hope this above-given solution will solve your problem if you get errors after applying these solutions maybe your windows system files are damaged. to get rid of this you need to contact an IT professional person.
(Visited 18 times, 1 visits today)