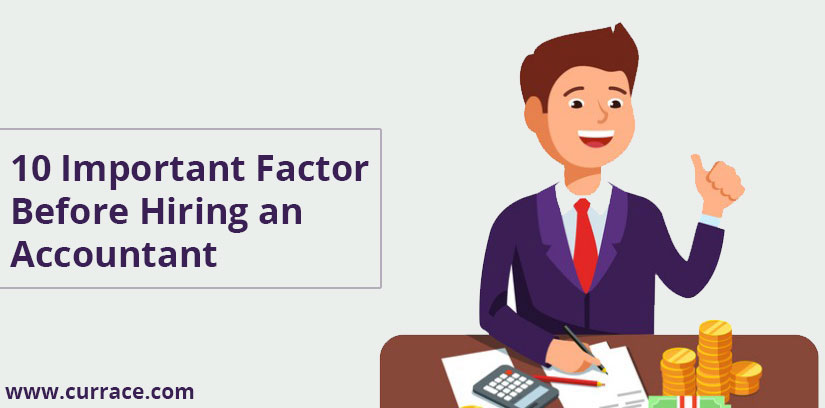 10 Important Factor Before Hiring an Accountant.
It is important for some small business owners who can give proper advice during your business. Like starting from start-up to succession planning, choosing or hiring an accountant can be a difficult task for you. You have to find someone who communicates properly. It helps you to create and maximize your business's financial strategies, is affordable, and ready to adjust its risk tolerance within the cause.
So you are here to see what things you should see in the accountant to hire them. You already know how accounting professional support enhances your business. Before starting this discussion, you should know the basic difference between bookkeeping and an accountant.
Here, we are discussing more important factors to looks for when hiring an accountant
1. Information about a business environment
First of all, an accountant should know about your business environment and your tax situation, your financial statements, it is understood that they ask to pull all the pieces together. And you'll come up with a business plan. Assistance in personal financial planning.
2. Accounting and record-holders
An accountant should have a good knowledge of accounting and record-keeping because it makes sense for many business owners to manage their day-to-day records, establishing an accountant bookkeeping and accounting system Can help and show you how to use them.
3. Knowledge in Tax related
Tax-knowledge means it related to tax questions or problems, the accountants are usually provided two areas, such as tax compliance and tax planning. The plan helps you refine your overall tax headache or tax burden. some Laws are followed by the accountant.
4. Asking for CPA Certification
You asked if you are a CPA (CERTIFIED PUBLIC ACCOUNTANT) or not? Because CPA is an examination for an accountant and it has been licensed by 50 American states (or one of the five other courts). An accountant must pass these examinations for a good accountant.
5. Responsiveness
When you want to hire an accountant then you shouldn't take any risk. You have to check that he or she return calls quickly or doesn't provide adequate information when you are under the problems. You can ask before you are hiring that their turnaround time for filing the reports. and Find out from their other references how he or she is responsive or not.
6. Auditing
This topic is very important for accounting because These services are most commonly required by banks as a condition of a loan. The accountant or other third party assures that a company's financial information is accurate.
7. Be Clear About All Rates
The last thing you want from an accountant is surprised when the bill or invoice comes to you. Make sure you understand their fee structure and receive estimates of the monthly costs for the services you need.
8. Check Their References
Ask potential accountants for client references, particularly from clients in your industry. If you are considering CPAs, AICPA has links to all the state CPA registries. There is also an online lookup tool provided by the National Association of State Boards of Accountancy.
9. Your company's Services
In your company, Most accounting firms offer tax and auditing services and the CPA may offer services that include analyzing transactions for loans and financing, preparing, auditing, reviewing, and compiling financial statements; managing investments; and representing you before tax authorities.
10. Availability
There are Some consumers (clients) are content to meet with their accounting firm once a year for tax-filing purposes. Other clients have frequent business questions that require timely answers. So Find out if your accountant is a telephone call away or if you will have to schedule a time to come into the office and talk in person.
11. The accountant speak your language
The last question is to ask yourself If you are not a genius when it comes to financial group, your accountant needs to understand this and be able to communicate with you in a clear and pithy manner. The accountant should not be the only one who understands where your company stands financially.
Factors to Consider before appointing an accountant
There are the following factors to consider before hiring an accountant:-
1. Qualifications and Expertise
Is the person you are interviewing qualified to work for your company? Look for professionals in the field, not just anyone. A perfect professional will provides a lot to the progress of your business.
2. Cost
You are in a position to pay an accountant you are about to hire? Does your business muscles provide the accountant? Always consider what is available in the business before making a move.
3. Service-level
You require to hire an accountant to manage all accounting activities. The account should be qualified in taxation, audit, and booking.
(Visited 19 times, 1 visits today)