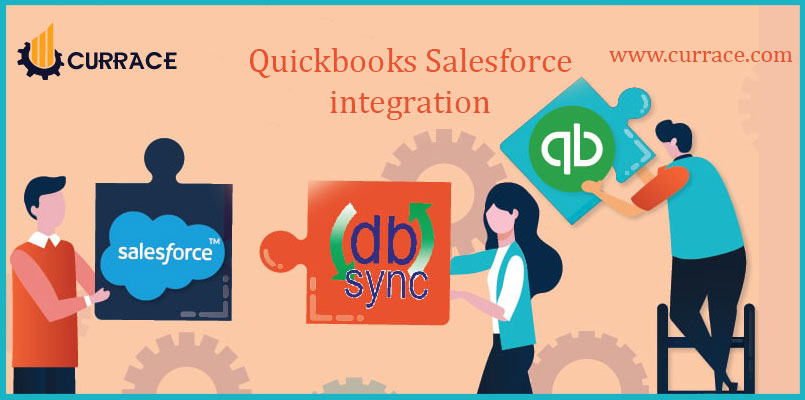 quickbooks Salesforce integration benefits and Tools
With quickbooks Salesforce integration you can share all of your financial data with your sales team. By integrating Salesforce with quickbooks allows you to get full visibility on how your business can be improved. By integrating both software there is less duplicacy of data and can help in enhancing productivity.
With quickbooks Salesforce Combination customer information required by the sales team can be seen without opening the quickbooks Software. And they can estimate product price and Submit orders.
Benefits of quickbooks Salesforce integration:
Create and manage transactions, Sales Receipts, and invoices in one System.
Real-time data like invoices and sales history can be accessed easily.
Reports can be customized with deep insights.
Can save time and errors by entering data in a single entry.
Automation of work without a single line of code
Versions of quickbooks Salesforce Integration:
Group: This is the base version of quickbooks Salesforce integration. Which can handle up to 5 users. It allows you to see all the customer information. It offers features like email integration, contract management, and many more.
When you buy this version it comes at a price of $18 for the first 3 months and it also gives you 14 days free trial.
Professional: With this Version, there is no limit to the no of users. This version offers all the features that are offered by the group version. More features like product tracking and creating promotional campaigns.
It offers a free 30-day trial and for the first three months you have you pay $60/month and after that $65/month.
Applications for quickbooks Salesforce integration:
DBSync:
It is a simple and quick Approach for quickbooks Salesforce integration. This app offers full customization to its user. It can streamline your order to cash and spare Your money and time.

Key Features:-
Custom objects and fields in salesforce can be integrated with quickbooks Desktop.
It provides you with event logs and email notifications.
Real-time updates in quickbooks and Salesforce.
It works on Cross-platform.
Breadwinner:
Integration of quickbooks With Salesforce can be achieved through Breadwinner. It is a framework that can fast-track your business. With this sales team can work faster and more efficiently.
Key features
Sales Team can Raise Invoices.
Diminish the chances of Duplicacy.
The billing and Sales process works quicker.
It can allow us efficient reporting.
Helps in Improving time and precision management.
Workato:
Workato is created by specialists of quickbooks And Salesforce integration. It has a 5-Star rating by the customers. This software is able to solve all its known issues.
Key Features:
It can move the new clients in quickbooks to Salesforce.
Update quickbookslists with Salesforce items.
Syncs Salesforce account with the client in quickbooks
Insightly App:
It is best for making good customer relationship. Insightly will help you to grow your business and make more profit. It is a CRM(Customer relationship management) System which helps in making good relationship with customers. It is available for all types of smartphones which makes customer relationship management easier.
TSheets:
It is one of the best Business tracking apps and also for employee payroll. It can save time by making invoices and payroll. Tsheet's GPS allows you to track the employees and make their payments in time. This app is affordable whether you work in a group or alone.
Conclusion:
quickbooks Salesforce integration can be very beneficial for the business. It can Automate all the processes of entering data and creating invoices. and also making it easier to share all the financial data between quickbooks And salesforce. We hope that this article is able to help you.
If you still face any issues with the quickbooks Salesforce integration you can contact our quickbooks Support team and they will help you guide you with full information on the same.