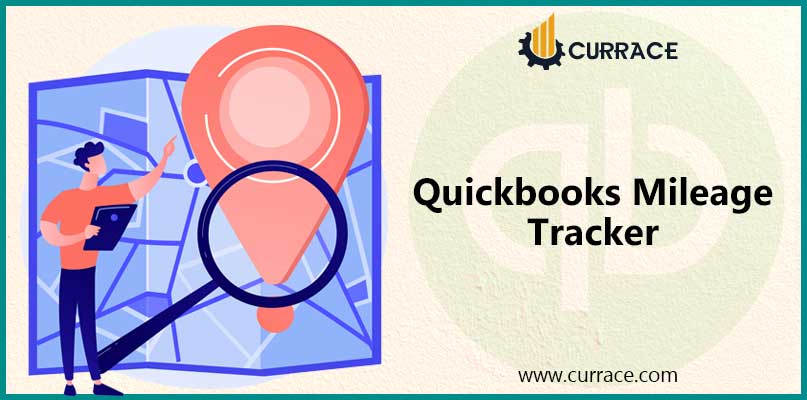 QuickBooks Mileage Tracker
Every businessman wants to keep their records safe and keep one place because they have many important documents that they have to handle in the future as well. They have to secure the accounts of the business so that they don't have any problem while doing tax deductions at the end. But everyone wants an easy way to do in every job. For example, In QuickBooks users store their accounting records in a QuickBooks company file. If the user does this procedure himself, it takes time and feels sluggish.
Mileage tracker is a feature in QuickBooks online that solves this problem for users so that users don't have to store accounting records by themselves. Now we came to what is QuickBooks mileage tracker? Mileage Tracker is a best feature in QuickBooks online which easily tracks your business miles or trips and is stored in one place if the user has a mileage tracker mobile app.
When do we use quickbooks mileage tracker?
A QuickBooks user travels outside of the business purpose sometimes meeting with a client, going for a business trip, and so on. So for this user use mileage tracker because it automatically tracks business miles and trips. If users have this app in their mobile, iPhone, tab, etc, the mileage tracker automatically turns on and off when you go out on a trip and tracks user location and time spent at the location. It also handles the expense records. But IRS has special rules on whether there will be a count or not. Suppose you travel from offices to construction sites and travel for business entertainment from office to airport etc. so these types of traveling is counted.
Benefits Of quickbooks Mileage Tracker
If we use mileage tracker, we have taken a lot of advantages during business trips and after business trips but make sure you must sign in as a master admin of QuickBooks. No other one can use this app.
After tracking,it downloaded your written record of business miles and trip expenses(like vehicle)in a download folder as a CSV file.so that you can easily find out your records.
It acts as a GPS.
It is the bestest app for tax deduction because you need to calculate deductions at the tax time.
You don't need to record any single thing on paper.You can just use a mileage tracker for recording.
Once your business miles are recorded and downloaded, so you can determine the amount you can deduct.
It not only records business miles but also records personal trips in quickbooks online.
How To Use quickbooks Mileage Tracker
There are some useful steps that you know how to use this app before going for a business trip or personal trip.
Change Your User Permissions
Drivers must have a mileage tracker mobile app because only the master admin who already signs in to this app can track business miles. You can add different types of users but the master admin is always the only one who manages all the users. But in case if you want to update the only the email address for admin master so you have to change the email address, you must follow these steps :
You can edit your email address from the Intuit account by sign in and go to the email address section to make changes.
You can also change your email address from quickbooks online by signing in and selecting an intuit account under the settings. After that, go to the email address section to make changes.
In case you want to choose a new admin master, so you must follow these steps:
Login as the current admin master into quickbooks online.
Enter your id and password of admin master.
Then choose the new admin master.
Setup Mileage Tracking Automatically Turn on
You make sure that your auto-track turns on or off.
Add a New Vehicle
Mileage Track Business Miles
Only admin masters can track business miles by using this mobile app. whenever start driving, this mileage mobile app starts automatically and tracks business miles from beginning to end but make sure the tracker must be turned on at that time.
Take Feedback From Mileage
You can use this tracker on a phone (any android, iPhone) or a web browser.If you use this on phone,so you must follow these steps:
Open the QuickBooks app on mobile.
Choose the mileage tracker under the menu.
Under the reviewed tab ,if you find the business trip, swipe to the left and if you find a personal trip, swipe to the right.
Add the type of trip and choose the vehicle you used.
Click on save.
If you want to open this app on web browser:
Go to the mileage tracker under the menu.
Choose the type of trip under the reviewed tab.
Choose the vehicle you used.
Check all the details.
Move to the "more" option to make changes in location,time and distance if you want.
Click on save.
For export,Choose the mileage under the menu.
Choose "export".
How To Fix Issues In quickbooks Mileage Tracker
We should also know how to fix issues in the mileage tracker if we use it. When you use your android app or iPhone. But sometimes you can't find your trips in your download folder and observer your trips are stored in an inaccurate manner. So you have to solve these issues as soon as possible.
Only admin master can track business miles and sign in to this app but admin master just only adds other users to join this app but they have no right to use it and only admin master can manage the app as well as other users.
Turn On Automatically Mileage Tracking
If you use an app on iPhone or iPad or Android phone or tablet.
Sign in the quickbooks mobile app.
Choose mileage under the menu.
Select auto tracking,If this is your first time setting up the auto tracking so choose allow and then allow all the time.
Verify Your Location Of Your Device
You just turn on the auto-tracking and the rest of the procedure will be handled by the QuickBooks. This app only tracks when your device opens.
If you use this app on iPhone or iPad,
Go to the settings.
Select the quickbooks app.
Choose always for location.
Shut down your settings.
If the background location message received by you,then choose always allow.
You need to know how to use this app on an android phone because it has different systems.so you have to follow google's steps.
Check if the app stills tracking
If you use this app on iPhone or iPad,
Go to the profile.
Then go to the settings.
Choose mileage troubleshootings under the mileage menu.
If you use this app on Android phone,
Choose mileage under the menu bar.
Then choose settings.
Add quickbooks mobile app in permission lists
For android,choose "application manager"under the settings.
Search "quickbooks"mobile app.
Turn on mobile data and select and allow the app to use mobile data.
Update quickbooks mobile app and your device
If you have already or not, You must update the latest version of the QuickBooks mobile app.
If you use iPhone or iPad,
Go to the playstore.
Select your profile under the "today" tab.
Search for quickbooks mobile app and update it.
If you use this app on an android phone,
Go to the playstore.
Choose the "menu" on the home screen.
Search for quickbooks mobile app and update it.
If you don't want to follow these steps so you can also follow google's steps.
You need to update your device(iPhone, iPad, android)whatever you used for this app and update the latest version.
Edit device settings
Go to the settings.
Choose privacy to make changes.
Then move to the location services and turn on.
Then move down and choose system services.
Turn on different locations after choosing it.
Track trips accurately
Open quickbooks mobile app.
When you start tracking you have to make sure that app is running in the background.
If your device battery gets low and off and again you sign in to the quickbooks mobile app so you observe that your app is still tracking or not.
You can't edit these trips ,if you are in stop or go traffic the app records many trips.
By reading this post you can easily understand what is millage tracker and how to use it. If you want to know more about the QuickBooks mileage tracker then you can contact QuickBooks ProAdvisor.
(Visited 47 times, 1 visits today)