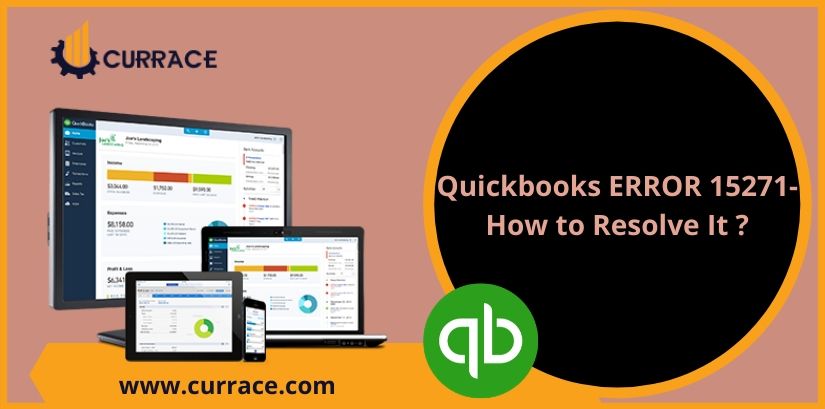 QuickBooks Error 15271
QuickBooks Error 15271 is one of the most common errors that commonly occur when any user trying to download payroll updates or trying to update quickbooks desktop. During the payroll update or desktop update if you have this error code with the message "The payroll update did not complete successfully. A file cannot be validated.", "The update did not complete successfully. A file cannot be validated" and want to know about the best possible solutions that can help you to fix this error code, then read the complete post, by reading this post you can easily fix this error code or problems.
Causes for quickbooks Error Code 15271
You may get error 15271 due to many kinds of issues and for you, after lot of research below we discussed all possible causes of quickbooks error 15271, by reading below discussed points you can understand why you get this error. After understanding all possible causes behind error 15271 moves to the methods of solution.
Improper quickbooks Software Installation

Windows files that require quickbooks to run may be damaged

The thing to do before fixing this error

Create Company file Backup

Open quickbooks Desktop

Go to File then Back Up Company and Create Local Backup

Now follow onscreen instructions to create a backup
Solution to Resolve quickbooks Error 15271
You can resolve or troubleshoot quickbooks error code 15271 in many ways, bellow we discussed all possible methods which is necessary to fix error 15271.
Solution 1: Turn off UAC in your Computer
Press Windows+R keys together from the keyboard and a Run box will come up

Now type Control Panel and click OK

Then go to User Accounts

Now click on Change User Account Control Settings

After that move slide to never notify and then click on ok
Then restart the computer or device
After performing these steps

turn ON UAC on your computer for safety.

If you fixed the error code by following these steps then leave other steps, if still have a problem, then continue to other steps or methods.
Solution 2: Update quickbooks to the Latest Release
Close quickbooks Desktop
After that press the ctrl key and then double click on the quickbooks desktop icon and not release the ctrl until seeing No Company open window on your quickbooks.
Then click on help to update QB
Then at the top of the screen click on the update now
After then check for updates and click on update
After that click on ok if asked
Then after completing click on close
And then close QB
Then again open QB and click on yes if asked to download new updates
If your error code is still not resolved then try other methods.
Solution 3: Uninstall & Reinstall quickbooks
If all the above-mentioned solutions failed to fix your problem, then uninstall your QB and reinstall again. But due to any reason if you are still unable to fix the quickbooks error 15271 then I recommend you contact QuickBooks Proadvisor.
(Visited 86 times, 1 visits today)