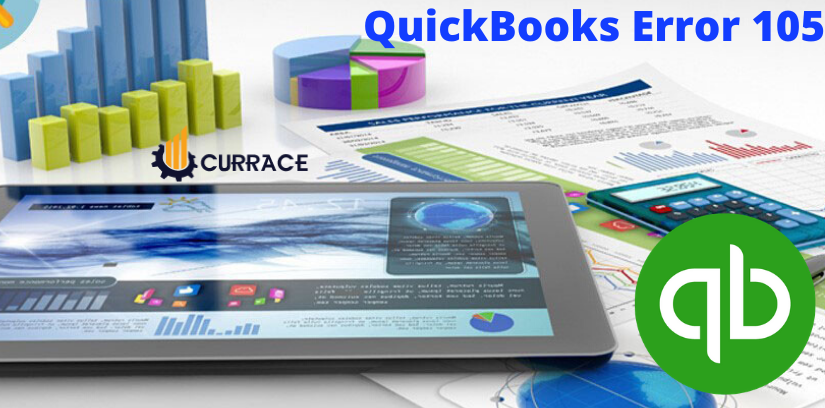 How to fix QuickBooks Error 105?
To grow any small business, we need software to manage our business accounting. And who can be better than QuickBooks, QuickBooks(QB) is the best accounting software because QB uses the latest technology for security as well as supports almost all types of online banking. Via online banking, we can easily sync our financial transactions into QuickBooks online. But sometimes during online banking data sync, the user sees unexpected QuickBooks error 105.
Error code 105 occurs when the user's financial institution's website goes under maintenance or the user bank account server is down. So when QB error 105 occurs with any user, then he could not be able to download the bank statement into QB, and not able to accept payments. Today we try to resolve Qb error code 105, so let's see how to implement steps and work smoothly with QuickBooks.
What is Quickbooks Error 105
QuickBooks error 105 is a warning in QB software, it appears when we try to access our bank account data within QuickBooks, but QuickBooks is unable to communicate with your bank server.
To understand this error, let's take a real-life example: suppose you visited a new house, and you switch on AC, but AC didn't run. Here there might be three possibilities of not running AC. First, one electricity is not available, the second house main mc is fused, or AC has an issue.
Similarly, in our situation, we can say electricity as an internet service, and electric MC fused as a bank server and AC as QuickBooks software. So when the user gets QuickBooks error 105, it means there is a problem in all these three stages. So let's see the causes and how to fix QuickBooks error code 105
5 Major causes behind QuickBooks error 105
When any QuickBooks user faces QB error 105, then there might be several causes behind it. We have discussed this error with lots of users, And everyone told us almost the same reason behind this QuickBooks error 105, which we wrote below.
The server used by your financial institution is sluggish.
Your bank website developers try to change something on websites.
Your broadband service unable to fetch data from the bank server.
The computer firewall is outdated. Hence it's blocking your PC to communicate with the bank server.
The user has input wrong login id and password.
Note: If you have entered the correct login credentials and yet face QB error 105, wait for at least one day. If everything is not getting healthy, then you can contact your bank manager and discuss this error. Or else you can try the next steps to fix Qb error code 105
4 Methods to handle QuickBooks error 105
QB error 105 can become part of a substantial loss in business. Because if you will not be able to input financial detail in quickbooks online. Then after some time, you may forget it, and this may become the cause of business loss. So if you want to avoid business losses and want to grow your business fast, follow the below steps to fix error code 105.
Try to update your online bank account password.
Check your internet connection; it must not too low bandwidth.
Make sure you have chosen the right bank name for your login.
Try to access online banking on other websites
Update your QuickBooks software and fix company file errors.
Step 1 Reset Online Banking User id and password
When we need to use the bank account online, like payment receive and pay to others, our bank provides a unique login id and password. Assume you forget your financial institution account login credentials. Then you can reset it by implementing the below steps.
Go to your bank website homepage.
Click on a personal online banking portal from the bank website.
You will see the login window, click on forget the password.
In the next window, provide all personal info, like bank A/c number and address, date of birth, etc.
You will then receive an email or text code on your registered mobile number.
Copy this code and paste it into a varify window that appears in front of you.
Then you can provide a new username and password and click on OK to save the new password.
Step 2 Check Internet Speed
If you want to fix QuickBooks error 105, then you will need a high-speed internet connection. Because sometimes, quickbooks send a request to the bank server, but when it reviews application from a server, your internet connection is unavailable. Hence you may face QB error 105. So check your connection speed if it low then contacts to your internet providers. They will increase your broadband speed then try to use QuickBooks. If you are still getting an error, then follow the next step.
Step 3 Reconnect Bank A/C in QuickBooks Online
Open QuickBooks and click on Banking section
Search your bank name by scroll down, if you are not able to see your bank name then follow below steps
Now select add account and try to find your bank account
Input your user name and password into the blank login window
Follow all the instruction that appear on the screen
Then select your bank icon from the left side menu
Choose account type from the drop-down menu like saving or credit or debit card
You will again redirect to your bank page
Now you can easily accept and pay money online with quickbooks
Step 4 Update quickbooks software
If above all steps are not beneficial and still face QuickBooks error 105, you must update your QuickBooks application. Let's see how to do that.
Open quickbooks application and click on banking sanction.
Now click on the Update button from the top right corner.
Select a particular account that you want to update and click on Update Now.
After that, provide your A/C login credentials and select Continue Update.
Conclusion
QuickBooks error 105 is a very frustrating issue in QB. Because due to this, you will not be able to sync bank transactions into Qb. So if you are facing such a problem, you can follow the above steps to fix it. And remember, do not share your login credentials with others; if you do so, you can face financial loss.
(Visited 18 times, 1 visits today)