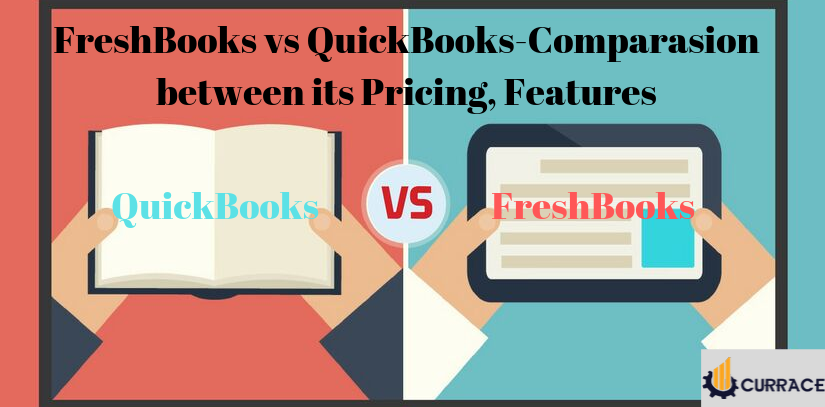 FreshBooks vs quickbooks -Comparasion between its Pricing, Features
FreshBooks and quickbooks are built for the same purpose many people think like that. But it is a common misunderstanding to the Accountant or business person.
quickbooks works best for a company that sells products and requires thorough accounting software. Freshbook works best for service-based businesses and freelancers and Solopreneurs. That a simple report requires a way to track spending and revenue. These two are doing the same function, but here we are talking about the prices of Freshbook vs quickbooks.
These two options have a lot of similar features when you switch to other software, but they don't work the same way. For example, Freshbook has invoice tracks for small businesses and for freelancers. quickbooks has provided the de facto accounting software used by all business industry types.
How to Evaluated FreshBooks versus quickbooks
Now here we can explain FreshBooks vs quickbooks Online and it can be evaluated. When you are looking for accounting software here is a list of the minimum requirements that most products should be included. As part of our research, we look at the cost, ease of use, and set up Invoices capabilities, and managing the bills. 
Cost- It offers a pricing plan that is affordable for small businesses.
Ease of Use- that provides the minimal setup time and no accounting background is required.
Manage the Account Receivable- It both are allowed to create Invoices and track the customer's payments.
Manage the Account Payable- users can able to enter and track the unpaid bills and payments made.
Gives the other user can access- both are allowed to access the data.
After taking both the FreshBooks versus quickbooks for a test drive and evaluating the ability to meet above minimum requirements. So we have chosen the quickbooks online over the Freshbooks while the FreshBooks meet most of our criteria and it fell only short of one key area the ability to manage the account payable.
FreshBooks Vs quickbooks Pricing and Features
Now we have to come to these software features and pricing that they offer a plan for every budget. The minimum price plan for both products is $ 15 per month and the highest price plan is $ 50 per month for FreshBooks Premium and $ 60 per month for quickbooks Online Plus. FreshBooks is known for its ability to streamline invoices and payment processing, but does not have 1099 contractor reporting, budgets, and accounts payable that you will find online in quickbooks.
The primary difference between the three quickbooks online plans are features that are similar to FreshBooks Lite, with quickbooks starting out with simpler offers with fewer features. Why it costs $ 15 per month. The only difference between Essential and Plus plans is that Plus plans include a tracking inventory feature, a 1099 tracking feature, budget, and forecasts but the required version is not.
FreshBooks vs quickbooks- Ease of Use
Here we explain both software uses you can read all the instructions and check who is the best software for accounting. they both used simple language throughout the Program so any one person without an accounting background can use the software.
Use of quickbooks Online:
The quickbooks online dashboard has divided into five main sections: left menu bar, Outstanding Invoices, total expenses, Profit and losses, and sales.
These are the five main areas for the quickbooks online dashboard are:
Left Menu Bar- similar to the FreshBooks, you can access any tasks form the left menu bar like creating invoices, bank accounts, and reports.
Invoice- in this section you can see the amounts of customers owe you as well as the total amount of payments collects that you have a deposit and undeposited funds.
Expenses- you can see the total amount of expenses for the selected time period along with the top three categories.
Profit and Loss-Similar to the FreshBooks keep the tab on your profit without having run a report.
Sales-Keep your sales throughout the month a year so that you can spot a trend and make adjustments as needed.
Use of FreshBooks:
Now we explain the use of FreshBooks, the FreshBooks dashboard provides you with key information such as your account receivable balance, total profit, and a left menu bar for easy navigation in the program.
These are the four main sections divided into FreshBooks that are following are:
Left Menu Bar- like the quickbooks online you can perform multiple tasks from the left menu bar such as create Invoices, enter expenses, and also create a new project.
Create New report- using these you can also create new invoices, records and enter the time spent on a project.
Outstanding Revenue- you stay on the top of the customer Invoices that have not paid and the color-coded bar is available for overdue Invoices in the red color and that have not come to due that is a yellow color.
Total Profit- that keeps the tab in your bottom line without having a run report you can change the time frame to see the profit on a monthly and annual basis.
Customer Services of FreshBooks vs quickbooks
Both the software review FreshBooks vs quickbooks provides the best support for our customers and that offers a number of our channels using these number you can easily access. The best part is that unlimited support is already included in your monthly plan.
quickbooks Customer Services
The quickbooks provide the best services for our customers you can speak with the team through the telephone unlike FreshBooks quickbooks also provides the chat feature you can access the link and easily start the chat with our team.
FreshBooks Customer Services
FreshBooks also allows you to talk to a human by emailing them and also you can access their extensive section with the detailed instruction on FreshBooks.
Features Difference between FreshBooks vs quickbooks
| | |
| --- | --- |
| FreshBooks | quickbooks |
| Mastercard, Visa, and American Express | Mobile Receipt capture |
| Quickly bank deposit | Free Trial |
| Automatically payment recorded | Export Excel data |
| Fees recorded as Expenses | Comprehensive Dashboard |
| Single-click Setup | Document sharing |
| Safe & Secure | Support for MAC23 |
| Simple Payment experience | Smartphone compatibility |
| Account aging | Print checks |
| Profit and loss | Enter and manage bills |
| Balance Sheet | Automated Tax calculation |
| Expense Report | Interactive feed |
| Item sales | Creates custom Invoices |
(Visited 16 times, 1 visits today)