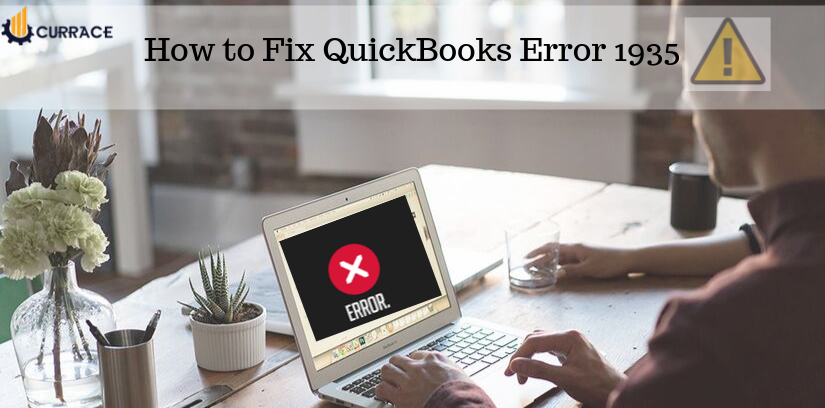 How to fix quickbooks Error 1935
An installation error 1935 with QuickBooks means there is a requirement of a .net framework or your version of Quickbooks accounting software is outdated and needs an update. So during the installation and just after installation if you get a QuickBooks error 1935, then without any delay immediately try to fix that error or trouble and use a QuickBooks accounting software conveniently, but before moving to solutions we need to understand all possible causes behind it, due to this for you here we discussed all possible causes, after understanding all possible causes for it move to step by step procedure to fix error 1935.
Before installing you have to make sure all things are in proper order. We have to check the operating system, .net framework, computer files, and internet settings.
Symptoms of QuickBooks Error 1935
Error window will appear and display QuickBooks Error 1935.
Your system delays your work.
Your system crashes all the time whenever you run a specific program and you see error 1935 on your screen.
Your system hangs and stops working.
Causes of QuickBooks Error 1935
Damaged window files and .net framework.
Corrupted files
 Incomplete download of QuickBooks
File error happened due to virus or spyware
Due to improper shutdown during the updation or recovery process
Improper hardware and software installation
.net framework is not up to date
Registry of windows
Methods to fix QuickBooks Error 1935
After knowing the reasons behind the QuickBooks Error 1935. Now we will fix this error 1935 by following some steps :
Method 1: Run Selective Startup Mode
Firstly, open run command.
Then type  'MSConfig' and press the OK button.
Now, click on Selective Startup and then go to the General tab and then click on  Load System Services and then  Load Startup Items.
Then you have to press on the Service tab.
Then Choose Hide all Microsoft Services and then click on Disable all options.
Unmark the Hide All Microsoft Services checkbox.
Now, in the next step you have to check the list of services and ensure that the Windows Installer checkbox is marked. If it is not checked, then press on the box to mark
And then click OK
Now, click on Restart in the System Configuration Window to restart your PC
Once your computer restarts properly, you can do a clean installation of QuickBooks
Now, open the Run command
And then type "MSConfig" and  press Enter
Now Select Normal Startup then goto the General tab and then click OK
from the System Configuration window, click Restart to restart your system
Method 2: Repair .Net Framework
Open the control panel window.
Now, click on the 'Uninstall 'option.
Now click on the 'Turn windows features ON or OFF.' option.
Now check .NET Framework 4.5 is enabled.If it is not then make it enable by clicking on the box and you have you need to close the Windows Feature window and then Reboot Computer. Press OK to repair the .NET Framework by unchecking the box and rebooting the computer. In case you see that the .NET Framework 4.5 is already enabled then 'Re-enable .NET Framework and then reboot
Afterward, similarly check that .NET Framework 3.5 SP1 is enabled.You can do this by clicking the box. If it is not enabled then click OK and Reboot the computer Additionally, you can repair the .NET Framework by clearing out the box and rebooting the computer.
Method 3: Temporarily Disable antivirus
Restart Computer
Start Installation
Temporarily disable the Anti-Virus software during software installation
Once the installation is complete, then Enable Anti-virus Software
Method 4 : Update your windows
Click Start Button
Now, enter 'Update' in the search box and press Enter.
A Windows Update Dialog Box will come up
If you see that Updates are available, then Click 'Install Updates' option
Method 5 : Reinstall .Net Framework
Restart the computer that has QuickBooks install error 1935, and again perform the installation process.
Stop the Anti-virus program during the Installation
Install QB and .NET Framework ( if not there already).
Restart the Anti-virus program after the QB and the.Net Framework are successfully installed.
Method 6: Run QuickBooks Diagnostic Tool
Start the computer and Log in to the system.
Now connect the system to the internet.
Download QB Install Diagnostic Tool
Save the file to your Desktop
Now, double-click on QBInstall_tool_v2.exe file
Close all Open programs that are running in the background
Once the System diagnostic is complete, then Reboot the system
Now Install Quickbooks
With all these methods you absolutely get the solution to QuickBooks error 1935, if you want to get any other suggestions or advice related to error code 1935 then contact QuickBooks Proadviosr.
(Visited 12 times, 1 visits today)