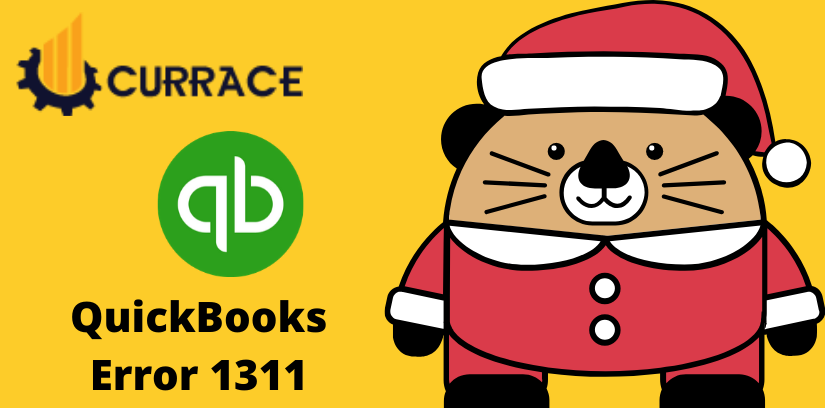 How to fix quickbooks error 1311?
Want to export a report financial Statement Designer to Microsoft Office Excel in a quickbooks accounting software but not able to export and get a quickbooks error 1311. A user may also get error code 1311 while installing or updating quickbooks with CD or DVD drive.
If you also get this error while trying to export a report or installing or updating quickbooks software and learn about its best possible solution, then you are at the best place, By the following bellow discussed points you can easily fix this error code or problem.

Causes of quickbooks Error 1311
To fir error 1311 we 1st need to know about it causes and to make it easier we discussed some error codes bellow.
There are some compatibilities issues between the versions of the office and quickbooks.
One or more of the MS office installation file is damaged.
quickbooks installation file is damaged.
CD installation purpose is damaged.
There are some issues with CD-ROM.
Symptoms of quickbooks Error code 1311
When quickbooks Error 1311 occurs, you can get the following symptoms –
Unable to install QB from the CD.
Unable to export a report to Excel from QB FIinancial Statement Designer.
When exporting a report, quickbooks Freezes.
quickbooks Error Code 1311 gets displayed on the screen.
Type of Solution to fix quickbooks Error 1311
Solution 1: Copy Files to Hard Drive and Then Install
Firstly, insert the quickbooks CD into CD-ROM. Click on Quit, if installation starts automatically.
Go to the Start button on the bottom left of the screen and do a right-click on it.
From the options, choose the Explore.
On the left, click on the desktop to make a new folder.
With the location being highlighted, go to the File menu.
Click on New then click on Folder.
Give a name to the folder, like quickbooks.
Go to the quickbooks CD-ROM in the left pane and do a right-click on the CD-ROM.
From the list, select Explore and go to the right pane.
Look for the folders – quickbooks and ThirdParty. Also, look for the setup.exe file.
Click on folders and file, while holding CTRL-key.
Do a right-click on any of the highlighted folders.
Click the Copy button and go back to the newly created folder.
Paste folders into this new folder.
Open this new folder and look for setup.exe and click twice on it.
After the process has finished, finally see if quickbooks Error 1311 is appearing or not.
Solution 2: Changing Access to CD ROM
Firstly click on the Start button.
After that open Settings and then Control Panel.
Now, go to Administrative Tools.
Look for Local Security Policy and click on it.
Expand the folder named Local Policies.
Navigate to Security Options and click on it.
Now, you have to select – restrict access to CD-ROM to only those users who are logged on locally.
In this step, you have to change the selection to Disabled.
Finally, restart the computer.
Solution 3: Copy Photoshop Elements
Firstly, make a new folder on the desktop.
Put Photoshop Elements installation CD into the drive.
Do not choose to autoplay.
Go to My Computer and do a right-click on the CD-ROM drive.
Now, you have to copy the folder named Adobe Photoshop Elements into a folder created in step 1.
After copying is finished, eject the disc.
Open the copied folder, look for Setup.exe and double click it.
Wait for the installation to get finished.
Finally, see if quickbooks Error Code 1311 is appearing or not.
Solution 4: Use Command Prompt
Open Command Prompt as Administrator.
Type the words – SFC /SCANNOW and hit Enter.
After the above scan has got completed, type the words – msiexec /unregin in the Command Prompt press Enter key.
Once again you have to type the words – msiexec /regserver and then hit Enter.
Finally, after completing the above steps, go ahead with the installation of the Creative Suite product.
Solution 5 – Use Run
Firstly, open the Run window.
In the text field, type the word – msiexec /unreg and hit Enter.
Now, again type the words – msiexec /regserver in the Run window and hit the enter key.
At last, you are required to reinstall CS4 application.
Finally, check whether quickbooks Error 1311 is appearing.
Solution 6: Check MS Office Compatibility
Navigate to Uninstall/change a program.
Select Microsoft Office in the program list.
Microsoft Office 2003 or later should have been installed to use Financial Statement Designer.
Choose the Change button, if the version is lower than Microsoft Office 2003.
You have to follow the instructions on the screen if you want to carry out a repair on Microsoft Office.
At the end, I hope you are satisfied with the answer or solution discussed above and now able to quickbooks error 1311 easily, but due to any reason still, if you are unable to fix this error and need additional help or advice then you can contact quickbooks Proadvisor and for any suggestions and advice leave you valuable comment, we will absolutely follow your suggestions.
(Visited 16 times, 1 visits today)