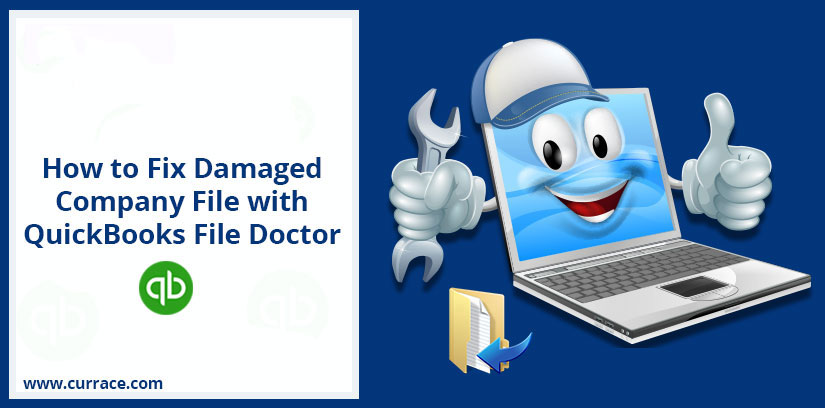 QuickBooks File Doctor
If you are unable to open your Quickbooks file, then there are only two possible reasons which could cause this issue either there is a network issue in the system or your QuickBooks file has been damaged. To solve the Network issue and repair the Company file you need to use Quickbooks File Doctor. This tool will help you in diagnosing network issues or company file issues and help you to resolve and manage network issues or company file issues. But before downloading and installing this advanced & powerful tool we need to understand what type of errors we can fix this tool, and need to know its system requirements and much other useful information.
Benefits of using QBFD:
Did Not Find a Problem: In That Case, try to open a company file again and if the error still continues begin auto data recovery and enter all transactions since the last backup.
Problem Found And Fixed: Continue using the QuickBooks file.
Problem Fount But not Fixed: Begin auto data recovery and enter all transactions since the last backup.
Errors that you can deal with QBFD:
Before 2012 Quickbooks offered two different tools to solve both of these errors but in 2012 Quickbooks released QuickBooks File Doctor to fix these two errors in one place.
System Compatibility:
Now file Doctor becomes a built-in tool for Quickbooks
Quickbooks file doctor tool is only compatible with the only windows user. It's not compatible with MAC users.
Keep the following points in mind before running File Doctor
Points that we need to keep in mind before installing and running QBFD:
If you are trying to upgrade QBFD Uninstall the older version before installing the latest one.
After 2016 QBFD in inbuilt in QuickBooks Desktop. And it is recommended to use an external version.
A minimum of 1.5 GB of Space is Required in the hard disk.
This software is Only Available for Windows not for QuickBooks for Mac.
Steps to Download & Install & use quickbooks file doctor
Download the QuickBooks File Doctor from the Official Website
Run The setup with administrator permission.
Follow the onscreen instruction and complete the installation process.
You can easily download and install a powerful file doctor tool after installing and for previously installed tool, if you want to know how to use them for your help bellow we also discussed how to use this advanced tool, to know how to use read every point.
How to use the stand-alone version
Open QBFD.
Now you have to select the company file. Either you can select the company file from the Drop-Down menu or locate it yourself by clicking on Browse Button.
In the Advanced Setting choose to check the File Damage Only Option and click on Diagnose.
Now you will choose from two options which suit you best and click on next.

First Repair the file for the existing version.
Second to open the File in the latest version.

Type the Company File Admin Password and click next.
Again you will be choosing from two options on which type of system you are using:

Choose the Workstation option if the company file is not hosted on the system
Choose Second Option if you are using QBFD on a Server.

Now QBFD will Start repairing the File which may take some time.
After Finishing of the repair process, you will get a success message on the screen
Try to Open the QuickBooks File No matter what the result is.
How to use the built-in Version:
After 2016 QuickBooks Desktop Comes with a built-in version of QuickBooks File Doctor which is Only Available for the UK, US, and Canada versions. and supporters on Wndows7/8/10 and server2003-2012, as well as to run this we also need .Net Framework framework.
Open QuickBooks Desktop.
In the File Menu of QuickBooks Desktop>Utilities>Repair File and Network Problem.
This will Launch QBFD and the rest of the steps are the same as mentioned Above.
Limitations of QBFD tools
Cannot repair a file larger than 2 GB in size.
An Internet Connection is necessary to upload and repair a QuickBooks file.
It is Only Available for UK and US Versions.
You can only use this tool when you are unable to access a company file.
To repair files you need admin permission.